CALENDAR OF EVENTS
.
« Prev Month
January 2018
Next Month »
Follow us on Twitter @CARAresearch & Like us on Facebook to get notifications about upcoming events!
EVENT PDF LINKS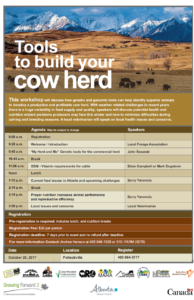 October 25th, 2017
Pollockville Community Hall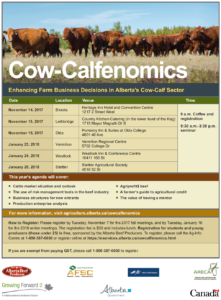 November 14, 2017
Brooks, AB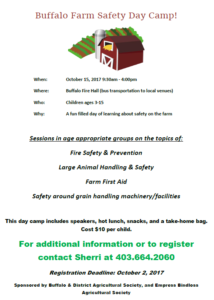 PAST EVENTS
December 2, Spondin– December 6, Consort– December 13, Oyen
18 producers joined CARA & Barry Yaremcio, Beef & Forage Specialist with Alberta Agriculture & Forestry, for a one of the three day with hands-on training using Cowbytes beef ration balancing program. They went through step-by-step instructions of the computer based cattle ration program. The producers were encouraged to bring their own feed analysis information along with them to do a one-on-one ration formulation based on their herd and their feed.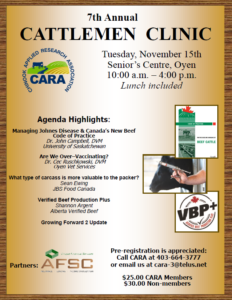 7th Annual Cattlemen Clinic
CARA hosted another successful Cattlemen Clinic in Oyen on November 15. 45 producers participated in the day which featured great speakers, relevant topics and lots of audience interaction.
Dr. John Campbell, Department Head and Professor of Large Animal Clinical Sciences at the Western College of Veterinary Medicine, addressed Johnes Disease – what it is, identifying if it's in your herd, implications on your cows and how to reduce the spread of it. Although more prominent in dairy herds, evidence of the disease is increasing in beef herds and is showing up in younger cattle. A few of Dr. Campbell's recommendations included getting rid of cows who show clinical symptoms (and their daughters), isolating infected cows at calving, knowing the health status of herds you are buying cattle from and maintaining a clean environment for your calves. Dr. Campbell also led a discussion on the Beef Code of Practice, focusing on pain management. The Code was developed with ranchers at the table and is more of a practical guide than a regulatory document.
Sean Ewing, Plant Cattle Buyer from JBS Canada in Brooks led the afternoon presentations with information about JBS, some general trends in cattle pricing and fielded lots of questions on carcass quality, direct sales and delivery as well as reducing carcass discounts.
Dr. Cec Ruschkowski (Oyen Vet Services), WCABP Boehringer Ingelheim Veterinarian of the Year, discussed the role of vaccinations in managing various diseases and other factors which influence herd health. Her experience with local livestock issues and her practical view on herd management made for delivery of valuable guidance as she responded to questions from those in attendance.
Melissa Downing, first day on the job with the Alberta Verified Beef organization, provided details on the Verified Beef Plus program which is now in place, how it differs from the original and potential benefits to producers to take part.
The clinic ended with an update on available Growing Forward 2 funding opportunities by CARA's Conservation and Extension Technician Olivia Sederberg. She also offered help in developing GF applications as well as completing EFP's, which are required for the GF Stewardship programs.
All meeting participants enjoyed a delicious hot beef dinner (catered by Muriel Martin) served mid-way through the Clinic. Thank you to the speakers and AFSC for their contribution towards the Cattlemen Clinic.
Rainfall demanded an adjustment from a true field day to a seminar format for CARA's Crop and Soil Health Field Day which took place at the CARA Center on August 3. Lunch was served to 44 participants who spent the day in CARA's shop gathering information from several industry specialists. Technicians waded into some of the nearby trials and demo's to provide a close look at some of the crops discussed during the day. CARA's Dr. Yamily Zavala led a discussion on the basics of soil health and demonstrated differences in aggregation and moisture retention from soil samples she has collected from fields across Alberta. Dr. Mandula Bandara, the Crop Scientist at Alberta's Crop Development Center in Brooks, shared information on the pulse and special crop research he oversees. Keith Gabert, Canola Council of Canada Agronomist provided some scouting and harvest tips for canola and mustard. Neil Whatley, Alberta Ag and Forestry Crop Specialist, summarized some of the benefits and tips for managing the production of lentils and other pulse crops. Use of the Brix Meter for monitoring crop quality was presented by Bob West, RA West International, Taber.
---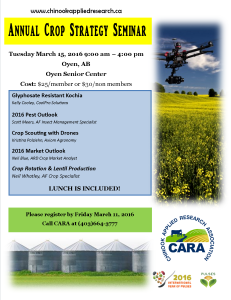 Annual Crop Strategy Seminar
CARA's Annual Crop Strategy Seminar was held in Oyen, March 15 and included an array of farming related topics such as glyphosate resistant kochia, crop scouting with drones, pest forecasts, market outlooks, crop rotations & lentil production to help farmers prepare for the quickly approaching crop year.
Kelly Cooley from CoolPro Solutions was the first presenter of the seminar and spoke about the biology of kochia and why it has developed to be resistant to certain chemicals. Kochia is the 3rd most abundant weed in Southern Alberta, and resistant kochia has been confirmed in east-central Alberta Farmers should consider reducing the number of glyphosate applications in a single season and incorporate other herbicides in weed management programs. When growing glyphosate-tolerant crops farmers may also need to incorporate non-herbicidal measures like crop rotation, tillage and manual weeding if necessary to control populations.
Kristina Polziehn, Axiom Agronomy Ltd., spoke about the usage of drones when scouting crops to assist farm management systems. The program (Agpixel) that Kristina uses processes unmanned, manned and satellite imagery for precision agriculture. The NDVI maps (Normalized Difference Vegetation Index) can be used to take advantage of the fact that healthier green vegetation has higher near infrared reflectance and lower red reflectance, providing enhanced insight for reducing inputs and increasing efficiency in the farming operation.
Scott Meers, Alberta Agriculture Entomologist Specialist provided an update on which insect pests are likely to b a problem this year. Neil Whatley, Alberta Agriculture Crop Specialist, led a discussion on the importance of pulse crops in rotation and shared tips for growing successful lentil crops. Neil Blue the third Alberta Agriculture Specialist on the agenda, provided insight on the market outlook for cereals, pulses and oilseeds. For more details check out the 2016 Pest Forecast and the 2016 Market outlook on the Alberta Agriculture website. The CARA office has Lentil Production Manuals available for those who may be interested.
This workshop held in Consort on March 7th focussed on Soil Health & pulse production for the area. CARA's Dr. Yamily Zavala discussed the understanding of soil health and how a producer could improve their soils in their fields. Crop Specialist Neil Whatley (AF)  led the discussion about pulse production and also gave in-depth details about lentil production for the area.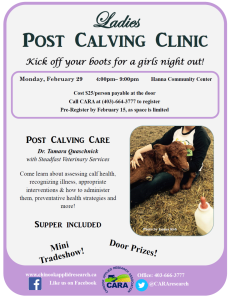 Ladies Post Calving Clinic
Dr.Tamara Quaschnik (Steadfast Veterinary Services) shared her expertise and humor as she addressed post calving issues on February 29 at the Community Center in Hanna.
Approximately 90 ladies took part in the clinic which included many practical tips on caring for the newborn and ensuring their mothers are in good shape to feed their baby and re-breed. In addition to a very informative presentation and an excellent turkey dinner, the women also had the opportunity to do a bit of shopping with vendors such as Steeped Tea, Cattlemnunns Ranching, JR Designs, Handhills Lake Stampede, TQ Leather, Scarves by Brianna Reiger & Essential Oils. Taking care of our personal health and managing the stress of a busy calving season was addressed by a short presentation and "stretch break" by Patrick May with Patrick May Exercise Services.
The crowd included from newcomers to the cattle industry to very experienced cow managers. Tamara's presentation included advice and observations valuable for everyone.
We hope to see everyone at next years Ladies Calving Clinic!
Ladies Calving Clinic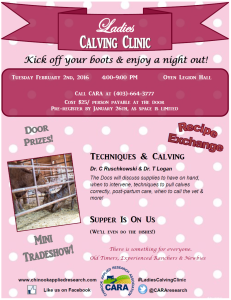 Body condition – Colostrum – Toes Down/Toes Up – Intervention – Tube Feeding – Bonding! Just a few examples of terms which were discussed during CARA's Ladies Calving Clinic Tuesday, February 2 at the Legion Hall in Oyen.
Calving time will soon be upon us. Although the miracle of birth and the survival instincts of cattle are amazing, calving time does have its complications and can be very stressful. A successful calving season typically requires support from everyone in the family and women play a very important part in many operations during this time of year. To support that participation, the Ladies Calving Clinic was developed to help take some of the stress out of the calving season. CARA's first clinic for ladies was held in Hanna one year ago and the great response encouraged a similar event in Oyen.
The discussions were led by Dr. Cec Ruschkowski and her husband John during late afternoon and evening presentations. The 90 ladies in attendance included experienced cattlewomen, those new to the business of calving and every participation level in between. Some traveled as far as 200 km to learn basic calving principles, dealing with problems as well as tips and tricks to keep calves healthy and reduce the stress during the coming calving season. Following the presentations on calving, everyone had a chance to practice tube feeding a calf, a task which many are uncomfortable with. Many thanks to Simon at the Acadia Colony for bringing the calf in and to John for prepping it.
A delicious supper provided by Lees Catering was enjoyed mid-way through the event and ladies had the opportunity to do a bit of shopping at Steeped Tea (Erika Haubrich); Val Evens's cute hats and headbands; Liz Westerlund's baking and Brianne Regier's wild rags.
Support for the event was provided by Growing Forward 2's Animal Welfare Delivery Agent program. Huge thanks to Dr. Cec and John Ruschkowski for sharing their knowledge and motivating discussion.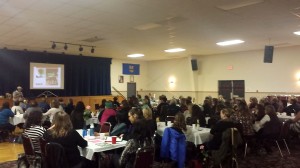 Western Canada Conference on Soil Health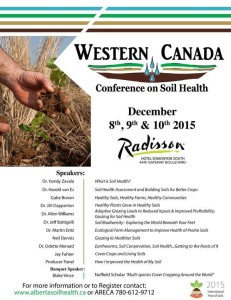 With 2015 being declared the International Year of Soils (IYS), ARECA and it's nine member associations across the province launched a soil health initiative to increase the awareness and understanding of the importance of soil for food security and essential ecosystem functions. Over the past year, several workshops and activities focused on various aspects of soil health were held at points throughout Alberta, concluding with the very first Western Canada Conference on Soil Health.
The inaugural conference delivered an agenda packed full of a variety of speakers, including international researchers and provincial producers. The sold out crowd contained over 400 producers, students, and industry representatives. CARA's Crop and Soil Health Management Specialist, Dr. Yamily Zavala, kicked off the conference with "What is Soil Health", setting the stage for understanding what a healthy soil is all about.