WHAT'S NEW
Growing Forward 2 & EFP
Information Session coming up in SPONDIN & CONSORT!
Please REGISTER by calling CARA at 403-664-3777 or email cara-lr@telus.net

We are excited to announce completion of the 'Managing Risk in Winter Grazing Systems' video series!
CARA was fortunate to partner with Alberta Agriculture and Forestry, West Central Forage Association and Lakeland Agricultural Research Association, plus cattlemen from across Alberta, in this project.  The videos contain practical tips on managing many of the risks associated with extended grazing systems.  Many thanks to Scott Townsend (www.Townendfilms.com) for his skills in capturing the pictures and putting it all together.  Funding for this project was provided by the Growing Forward 2 program.  Check out our local 'stars' from the Special Areas!

Click the link to check out the video series!
Managing Risk in Winter Grazing Systems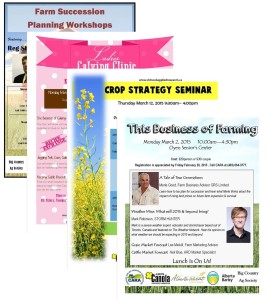 Not only do we feature upcoming events, we post a summary of each event with pictures, links and resources. Some new posts include:
HOT off the Press:
2015 Annual CARA Report 
Each year CARA compiles their projects and findings into their Annual Report. This is a great resource for East Central Albertan's to use when choosing annual & perennial crop and forage varieties, as the information is collected from right here in our unique corner of the world. Here you will also find summaries of CARA events, extension resources, conservation efforts and much, much more!
Archived Annual Reports can be found in our 'Projects & Reports' tab. Current Reports are only available to CARA members so call the office (403 664-3777) today!
Hiring Young Employment for the Farm? 
Alberta Agriculture is now accepting applications for their Summer Farm Employment Program
If full time farmers are thinking about hiring a student for summer employment, now is the time to apply. Once again, Alberta Agriculture and Rural Development will be offering the Summer Farm Employment Program. This program gives Alberta's youth the opportunity to gain farm work experience and provides wage support to farmers for the months of July and August. Alberta Agriculture and Rural Development provides wage support to a maximum of $400 per month as well as worker's compensation coverage and safety training information. Read More…
Follow us on Twitter!
CARA staff try hard to update this list as soon as announcements are made, however for the most up to date information be sure you visit

www.growingforward.alberta.ca

&

SUBSCRIBE

to their announcements. 
 On-Farm Energy for energy efficient broilers, heaters, doors and insulation of new or existing farm buildings Now accepting applications as of May 19, 2015
On-Farm Solar Photovoltaics is CURRENTLY CLOSED
Food Safety Program for Processors & Systems Delivery Agents is now accepting applications as of April April 7, 2015
Food Safety Systems Producer for cattle squeeze, a scale, milk guards, computer software for tracking animal health is CURRENTLY CLOSED
Business Management Skills Development program is now accepting applications as of April 1, 2015
Business Opportunity Program is now accepting applications as of May 4, 2015 
Livestock Welfare Processor is now accepting applications as of April 1, 2015
Livestock Welfare Producer for implementing low stress, low hazard environments for livestock (upgrading corrals) is CURRENTLY CLOSED
On-Farm Water Management for new wells, dugouts, dams. Also Capping or decommissioning wells.
On-Farm Stewardship for Shelterbelt Establishment, riparian fencing and off-site watering systems. Some programs closed November 28th, 2014 including Windbreaks, Fuel tanks.. and more.
Animal Health Biosecurity Producer for livestock quarantine pens, rodent control for poultry and many more! Now accepting applications as of April 1, 2016
Available only to CARA members. Call the office at (403) 664-3777 to become a member today!