CARA 2015 Extension Report

Available only to CARA members. Call the office to become a member & get your copy today!
What's New?
 Special Areas Fall/Winter 2016 Newsletter is out!
Contents Include:
Winter Feeding & Grazing Management Meet your Agriculture Fieldmen & More!             
Download the full newsletter by clicking HERE
Visit Special Areas for more info!
---
A Compilation of Branding Recipes from the 2015 Ladies Calving Clinic
Thank you to all the ladies who contributed recipes and branding photos. We hope you enjoy the book as much as we did creating it!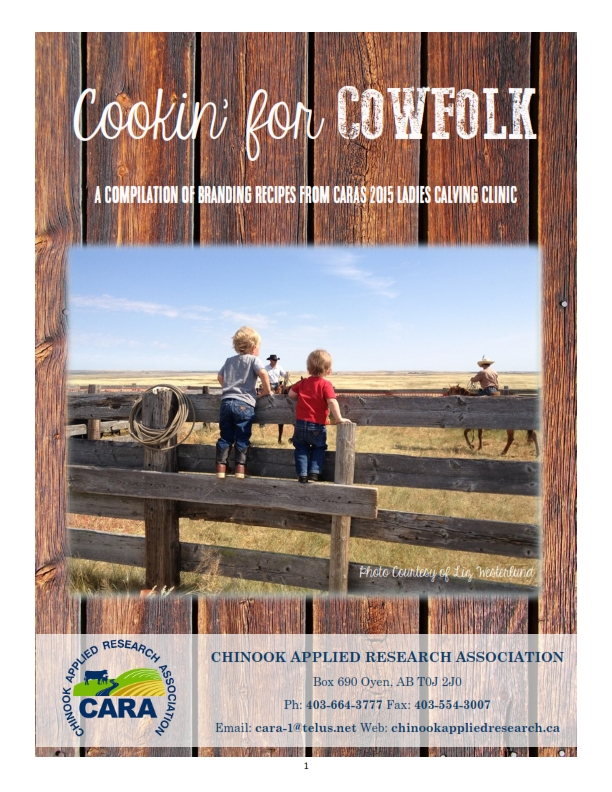 To download the full cook book please click here.
_____________________________________________________________________________________________________

You can now browse the PowerPoint presentations from the 2015 Managing Information for Profit in Your Cow Herd series of workshops that Alberta Agriculture hosted over the winter.
BIXS 2 Update:
"I'm registered, now what?"- hands-on learning focused on entering and retrieving animal data. 
Larry Thomas, BIXS Coordinator
Holly LaBrie, BIXS Program Administrator
Beef Herd Management Options:
What information is important to collect, How to measure productivity and profitability of cows/bulls, and GOLD Indicators.
Thank you to Kathy Larson, Beef Economist, Western Beef Development Centre for sharing her slides
Freeman Iwasiuk, ARD
Pat Ramsey, ARD
Genetic Selection Tools & Designing Breeding Programs:
How to use Expected Progeny Difference's for Profitability
Kajal Devani, Director of Breed Improvement, Canadian Angus Association
Stephen Scott, General Manager, Canadian Hereford Association
Nutrition: How to use Cowbytes:
To meet cattle requirements and save on feed costs
Monica Benoit, ARECA, 
Barry Yaremcio/Jim Hansen, ARD
Profiting from Information Management and Genomics:
How Genomics and other emerging technologies (UHF tags, Growsafe, Apps) can add value
John Crowley, Canadian Beef Breeds Council
Tom Lynch-Staunton, Livestock Gentec
Managing Information for Profit in your Cow Herd Agenda

Cow-Calfenomics 2014-2015
Seizing Opportunity in the 

Alberta Cow-Calf Sector
The complete collection of youtube video presentations from the 2014 Cow-Calfenomics seminar in Olds is now available online! Visit www.agriculture.alberta.ca/cowcalfenomics for more information. 
Meet & Cattle Fundamentals for Herd Planning- Kevin Grier
Linking Pasture Systems- Grant Lastiwka
Beef Cow Investment- Bruce Viney
Managing Prosperity on the Beef Farm- Rick Dehod
Human Resources on the Ranch- Abby Verstraete
Transition Tactics- John C. Reid